SEIS/EIS Advance Assurance
Get investment ready with SEIS/EIS Advance Assurance
SEIS and EIS Advance Assurance makes you dramatically more investable. Use SeedLegals to apply for Advance Assurance and get approved fast.
2/3

of UK angel investors only invest in SEIS/EIS eligible startups.

98%

success rate through SeedLegals vs. 62% industry average (HMRC stats)
SEIS is a win-win for you and your investors
Find out why founders use SeedLegals to certify their SEIS status. Our CEO Anthony Rose explains what SEIS is, why it's so important and how you can use it to attract investment.
Clear, easy steps to SEIS/EIS approval
Apply for SEIS/EIS in a simple and intuitive

workflow
Get your SEIS/EIS Advance Assurance application handled by the experts. We generate your completed application, check it's ready to go and submit it to HMRC for you.
Answer questions to quickly build your application

Get a full review from SEIS/EIS experts

Submit through SeedLegals in one smooth end-to-end process
No SEIS/EIS experience? No problem!
Carefully reviewed and submitted by our

experts
We make sure your application complies with the latest HMRC guidelines (even the ones they don't tell you about!) to get you the most reliable approval possible.
Get your application right first time

We act as your agent with HMRC and handle all comms

All your SEIS/EIS documents securely stored, ready for SEIS/EIS Compliance
Unlimited support for your SEIS/EIS application
Chat online anytime with our experts
Not sure if you meet the SEIS/EIS criteria? Need help with your supporting documents? Our team of SEIS/EIS specialists is here to help.
Talk to us your way via chat, phone, email or video call

Unlimited help included - no extra cost

Ask us anything - we're here 9am to 6pm Monday to Friday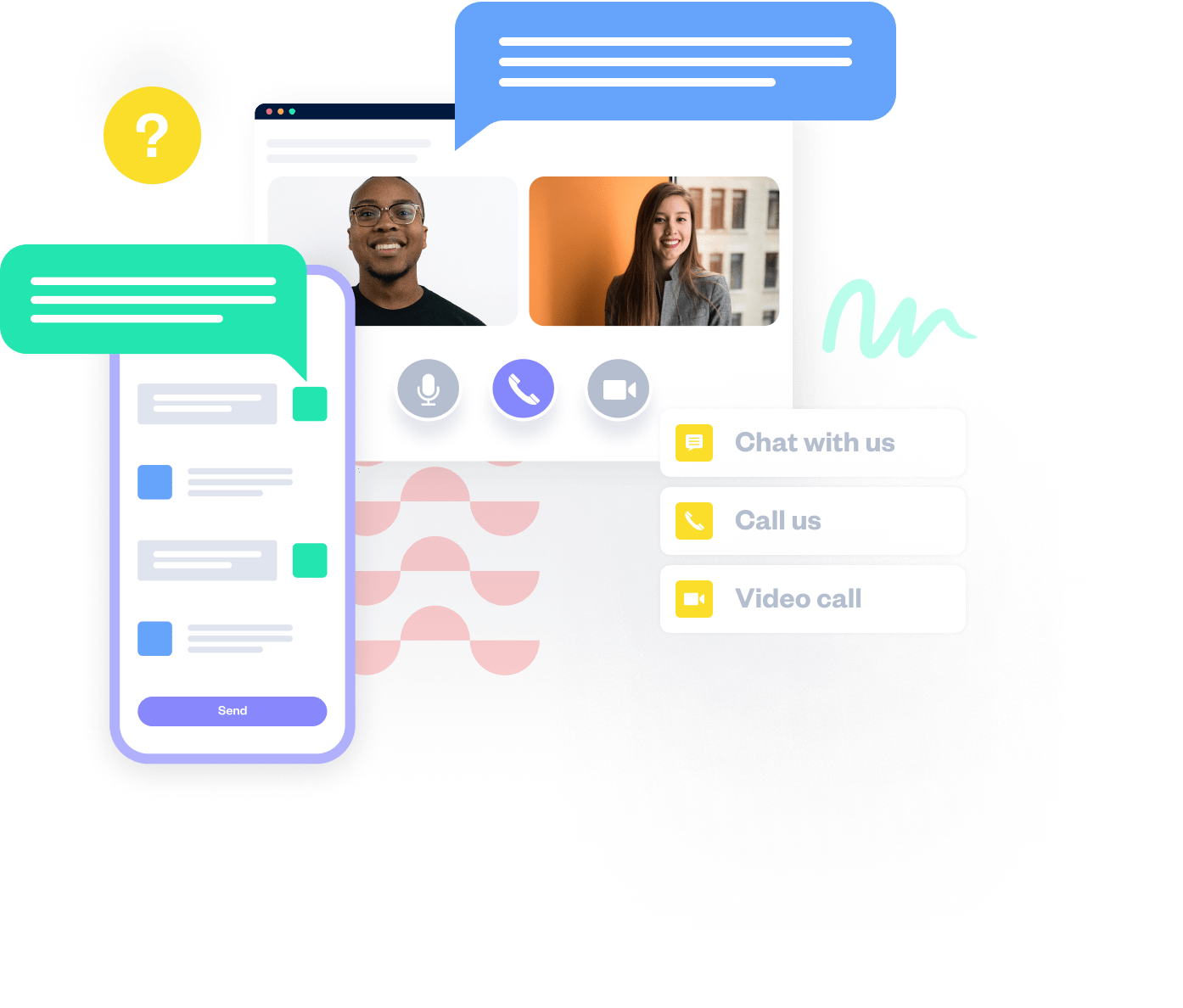 How to apply for SEIS/EIS Advance Assurance
Fill in company details

To get started, you'll need your UTR (Unique Taxpayer Reference number), Companies House number and the date your company incorporated.

Add details of potential investors

HMRC needs the name, address and intended investment amount of one or more investors to cover 25% of your raise.

Appoint SeedLegals as your agents

Give us permission to submit your application and communicate with HMRC for you.

Upload your docs

Add your business plan/pitch deck and other supporting documents to the application.

Get an expert review

Our team checks everything is 100% HMRC-ready.

Submit through SeedLegals and relax

We handle the comms with HMRC and update you when it's approved.
More resources on the SEIS and EIS schemes
FAQs
Frequently asked questions about SEIS/EIS Advance Assurance
Do I need SEIS/EIS Advance Assurance?

If you're still looking for investors or are in the early stages, then Advance Assurance will help you when you are pitching to potential investors.

Most SEIS/EIS investors require the company to have Advance Assurance from HMRC before they invest. If your investors are willing to invest regardless of tax relief, then you don't need to worry about applying for Advance Assurance.

Find out whether your

investors are eligible for SEIS and what the benefits are

for them.

Do I need SEIS Advance Assurance or EIS Advance Assurance?

It mainly depends on how big and established your company is. Smaller startups can use the Seed Enterprise Investment Scheme (SEIS) to give their investors a greater rate of tax relief for coming in at an early, and riskier, stage.

Larger companies - and SEIS-qualifying companies that have reached the SEIS limits - can raise under the Enterprise Investment Scheme (EIS).

Find out more about the

differences between SEIS and EIS

.

How do I find out if my company is eligible for SEIS and/or EIS?

What are the changes to SEIS from April 2023?

In autumn 2022, the government announced changes to the Seed Enterprise Investment Scheme, to come into effect from 6 April 2023:

raise up to £250,000 in SEIS investment (up from £150,000)
raise with SEIS for up to three years from when you first started trading (up from two years)
raise SEIS with company gross assets up to £350,000 (previously £200,000)
individual investors can now invest up to £200,000 in any tax year (up from £100,000)

For the full details, read our post:

Raise £250K SEIS now - but wait until July to do SEIS Compliance

Why should I apply for SEIS/EIS Advance Assurance through SeedLegals?

Our combined expert support and automated workflow help to streamline the process. Our SEIS/EIS experts are with you every step of the way and can guide you through the process from start to finish – unlimited support is included at no extra cost.

At the end of the process once your documents are finalised, we will also submit on your behalf on HMRC's website. It's free to sign up and get started.

How long does Advance Assurance take?

It takes roughly 30 minutes to complete the application on our platform. Please allow for one to two weeks for our team to review and to make any changes needed before we submit it.

Then the rest of the time is with HMRC (they take about 15 days).

What documents do I need for the application?

As a minimum you'll need to send HMRC your:
- business plan or pitch deck
- 3 year projected financials
- Share Register

You should also be prepared to send your:
- Company accounts or bank statement
- details of previous investment and/or grants
- letter of engagement from your crowdfunding/investment partner
- Articles of Association
- Investment Proposal / Term Sheet


Do I need to create a new business plan for my SEIS/EIS application?

What are the excluded activities that stop my company from being SEIS/EIS eligible?

This is a long list but the most common are: legal services, financial services, leasing / renting, energy, property development and agriculture.

Read more about what counts as an

SEIS/EIS qualifying trade

.

We incorporated over 2 years ago, can we qualify?

Yes! For SEIS you need to prove that you haven't been 'trading' for longer than

two years

and for EIS you have to be within

seven years

of your first commercial sale.

From 6 April 2023, for SEIS this time limit for trading is changing from two years to

three years

. But until around July 2023, you'll only be able to get SEIS Advanced Assurance if you've been trading for less than two years - to find out more, read

our post

.

To see what counts as trading for HMRC, read our post,

What is 'trading' for SEIS and EIS?

Why do I need to give the details of a potential investor?

HMRC introduced this to the SEIS/EIS application process to deter speculative applications from companies that weren't yet ready to raise.

There's no obligation for the investor you name to actually invest. You can change the name of the investor and their investment amounts at any time. But don't just make an investor up. It's better to find investors who are, on balance, likely to invest and to get their permission first.

To see who's eligible to invest under SEIS and EIS, go to

SEIS rules for investors

.

How long does SEIS/EIS Advance Assurance last?

There's no expiry date for SEIS and EIS Advance Assurance.

But, when your company no longer meets the

SEIS/EIS eligibility criteria

(which includes a limit on how long you've been trading for), you won't be able to offer SEIS/EIS tax relief to your investors.
You're in safe hands
Our team of legal and funding experts have helped thousands of entrepreneurs raise money and grow their businesses.
Beautifully organised

Your company's core agreements, all in one place

Secure signatures

Share and collect signatures online via SeedLegals

Backed by real lawyers

Create the exact documents you need at every stage of growth

Serious about security

Your information stays safe and confidential in our secure system

Helpful humans

Talk to one of our friendly team anytime on live chat

Extra protection

Don't worry, our insurance covers claims related to our platform
We've helped over

50,000

companies
From food to FinTech and beyond, join thousands of startups who use SeedLegals to start, raise and grow faster.
More customer stories
The reality is you're on a journey; fundraising is so much about the narrative. SeedLegals allows you to tell the right story at the right time with the right legal documents for different types of investors.

Louise Doherty

Founder & CEO, Yoller

SeedLegals held our hand through complex investor negotiations and even picked up on some errors produced by our previous lawyers which were a well-known City law firm!

Alex Templeton

Founder & CEO, Qured

One of the great things about SeedLegals is that it is designed to be appropriate for the round and the stage of the business. They keep it simple. It feels like they really understand that.

Alex Rainey

Co-founder & CEO, Pluto

How do I get all the businesses I invest in to use SeedLegals?

Alexander Wyndham

Angel Investor , The Family

It's easy to forget about the legal side of things but SeedLegals make things really easy to understand. The team at SeedLegals are truly amazing.

Darren Tenkorang

Founder, TRIM-IT

There's an opportunity to reach a specialist advisor via chat, phone and email to check in on anything. The SeedLegals team were extremely responsive – really amazing.

Emilie Vanpoperinghe

Co-Founder, OddBox